During the months leading up to our recent nuptials, my wife and I received countless wedding-day tips from our married (and sometimes unmarried) friends, family and colleagues. Each of them had their own take on what makes the perfect wedding, despite not knowing what our perfect wedding was.
So, I'll start by stating this: I have no idea what you want your wedding to be like. That's why I'm ensuring my five pro-tips work for whatever you may choose: from destination to local and church to beach. Each piece of advice below was said to me and now, after actually getting married, proved to be tips I would pass down to the future Mr. or Mrs.
1. Don't waste your time worrying about the people who can't make it. For our wedding, my wife and I invited friends and family from many different parts of the U.S. While we were secretly (or not so secretly) hoping for a few people to say "no" to keep our guest list manageable, it was somewhat disappointing when we actually received "nos." When mentioning this to a recently married friend, she said that on my big day, I wouldn't think – for a second – about the people who couldn't make it. Not that I wouldn't care about them, but I'd be too in-the-moment to notice. Those words rang true on my wedding day and I'd reiterate that to all future brides and grooms as their RSVPs start rolling in.
2. Keep key decisions between the two of you. Other stakeholders will get past it … eventually. It's your wedding, so do what you want. While my wife and I had a traditional Catholic ceremony, we knew from the get-go we wanted to write our own vows. I had never been to a Catholic ceremony where the bride and groom said their own vows, so I didn't even know if it was possibility – but thanks to our lenient priest, we ended up making it happen. My traditional-to-a-T Catholic father wasn't very happy at the time. But, just a week ago, he called to tell me the couple in a Hallmark movie he was watching (no joke) said their own vows, too. He said he's coming around to it. Hopefully, the people in your life come around to your decisions, too.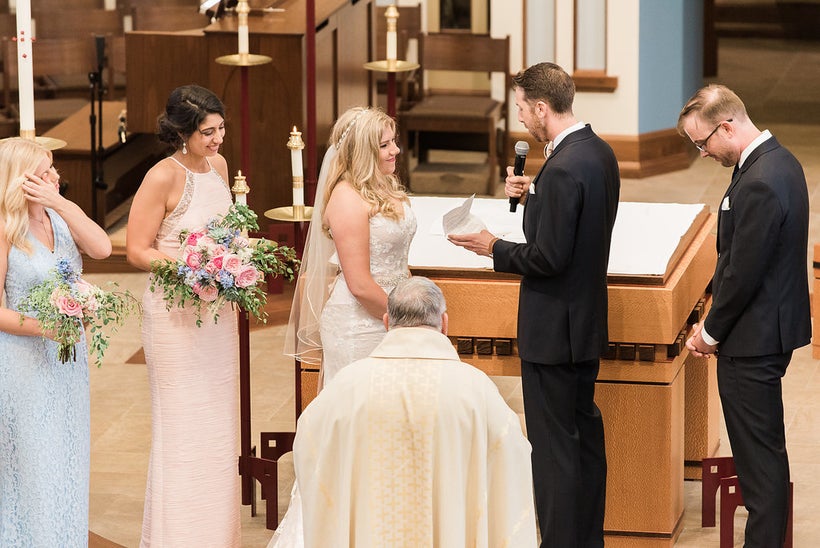 3. Take a moment to be one-on-one with your partner at your reception. I received this tip from one of my colleagues who escaped his wedding-day craziness for some alone time with his wife. Based on his advice, my wife and I made a point to find a getaway spot at our reception so we could take it all in together – even if just for a few minutes.